Here you will find stuff about myself, my family and the things I love to do...
I am President and founder of Confluence Internet Services Inc. a technology web development design company. I am also the founder and creative genius behind www.adventuresports.com a web site I created in 1995. It gets over one million visitors a month. It was on-line with my first commercial web site 10 months before Bill Gates had even seen the Internet. I have developed over 40,000 Web pages for over 400 companies. Ron was the cofounder and Executive Vice President of Technology and Design for OutdoorMind LLC. In addition his recent evolution on the Internet is www.OutdoorTrips.Info a site where you can find outdoor vacations and trips, and www.OutdoorTrips.Biz where you can sign up for marketing of your trips. I have just purchased www.OutdoorGuide.Net for outfitters to raise their PageRank and drive more traffic to their site.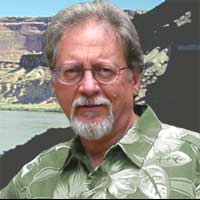 Ron has started 13 companies and all are still in business except two today. Ron's major in college was fine art and marketing. In 1964 he painted a series of paintings with IBM computers in them predicting the future of computer use. Ron is a veteran recreational educator since receiving his State of California teaching credential in 1979. He is a former owner of a whitewater raft company on the South Fork American River, a canoe and kayak shop (the largest paddling school in California for 13 years) and a mountain bike shop carrying quality high-end mountain bikes. Ron has been an executive officer of the American Canoe Association, an honored dealer for Old Town Canoe Company, a certified A.C.A. Paddling Instructor, and he was on the board of the Eppies Great Race (the oldest Triathalon in the world) for 13 years after taking first place in 1978. Ron has written articles and produced some of the first educational safety information on paddlesports. He has been involved in river conservation issues since the 1970's. His education in computers started in 1985 and telecommunications has been a special interest. He has continued his computer education at U.C. Davis. He has enjoyed many domestic and foreign trips doing Nordic skiing, backpacking, hiking, paddling and biking. Ron has been there through the evolution of canoes, kayaks, (ABS plastic, rotomolding and foam core-Kevlar/Carbonfiber) and mountain bikes (friction shifting to full suspension). Ron's recreational specialty is teaching water-fighting on raft trips. He says "If you are in my range, you're gonna get wet."
Ron has led and participated in many whitewater rafting expeditions on the Green River in Utah, Salmon River in Idaho, Rogue River in Oregon, many California rivers and the Grand Canyon in Arizona.
Ron learned mechanics working at the Hayward Airport on aircraft such as P-51's, Cessenas and Piper aircraft. He has always been interested in classic cars and has restored a 1972 Pickup and his recent love a 1957 Plymouth convertible like the one he had when he graduated from Tennyson High School in Hayward California.
Ron helped develop the first film class at Chabot College and does professional video production of his whitewater rafting adventures and for his clients. He has a studio and sound both for voice overs in Roseburg Oregon where he plans to retire on the North Umpqua River.
</center>

home || family || art || friends || fun || sites || contact

copyright © 2000 by Ron Hilbert, all rights reserved