Maintenance: 1957 Plymouth Belvedere Convertible
June 22, 2010 the Plymouth arrived from Salem Indiana.
Plymouth Belvedere convertibles were only produced from 1957 to 1959.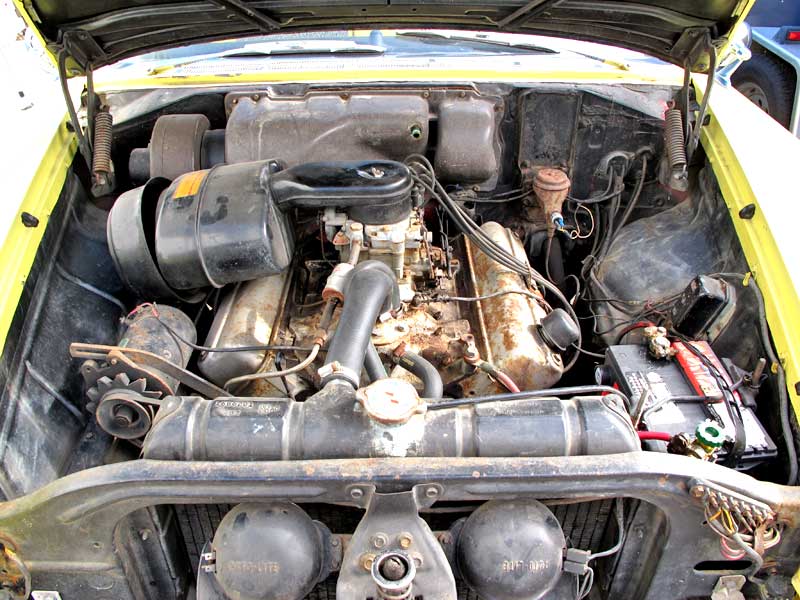 Engine compartment when it arrived June 2010
JUNE 2010
6/26/10 De-greased and pressure washed the engine compartment and underside of vehicle
6/27/10 Changed oil & filter, painted oil filter can orange, greased chassis. (last oil change 1994 according to the door sticker)
6/29/10 Replaced air filter and fuel filter
JULY 2010
7/2/10 Cleaned and packed front wheel bearings, installed new grease seals
7/4/10 Bead blasted and painted 5 rims (wheels) gloss black
7/5/10 Bead blasted and painted valve covers gloss black
7/5/10 Mounted 5 new American Classic tires with metal stems and balanced
(205/75R14 [radial] 2 ½ whitewall )
7/6/10 Installed valve covers with new gaskets
7/7/10 Installed overhauled driveline (Replaced rear universal joint and front ball & trunnion joint, and balanced driveshaft)
7/7/10 Installed new front shocks
7/13/10 Installed new 180 degree radiator thermostat
7/14/10 New upper ball joints, new upper torsion arm bushings, and manual steering box rebuilt.
7/19/10 Complete brake job; replaced master cylinder, all wheel cylinders, brake hoses and brake shoes. Painted backing plates and metal plate under master cylinder black
7/20/10 Aligned front end after suspension work completed
7/27/10 Rear pinion seal replaced
7/28/10 Replaced oil in rearend and fixed some engine oil leaks
7/28/10 Replaced ignition key core, fixed blinkers, installed new electric temp sending unit - it works...
7/29/10 Touched up yellow paint
7/30/10 Transmission serviced; filter and fluids changed - (plenty of clutch material left - worked on in 1983)
7/30/10 Changed oil SAE 10-30 again while fixing leak
AUGUST 2010
8/1/10 New; fuel pump, fan belt, spark plugs, spark plug wires, distributor cap and rotor
8/2/10 Leave for Hot August Nights in Reno.....
8/8/10 Returned from Hot August Nights - with no problems! Yahoo!!!
8/16/10 Carburetor off for complete concourse correct show quality overhaul.
8/17/10 Radiator routed out and heater core tested and cleaned.
8/20/10 Working on cleaning up the engine compartment
8/22/10 Cleaned, primed and painted the firewall yellow
8/23/10 Cleaned, sanded engine compartment and painted satin black.
SEPTEMBER 2010
9/4/10 Intake manifold re-installed
9/4/10 Front gravel pans painted metallic silver
9/4/10 Painted several engine parts Ultra Black (air cleaner, fan, pulleys, etc.)
9/5/10 Installed new water pump, thermostat housing, stock temp sensor and painted frame with Por-15
9/5/10 Installed front gravel pans, buffed, and 5 vertical stainless strips
9/14/10 Heater water control valve rebuilt and installed
9/19/10 Cleaned rust from inside front bumper and painted silver, re-installed some small parts in engine compartment
9/19/10 Removed exhaust manifolds to replace with ceramic coated manifolds. (Major issue - broke off several old studs)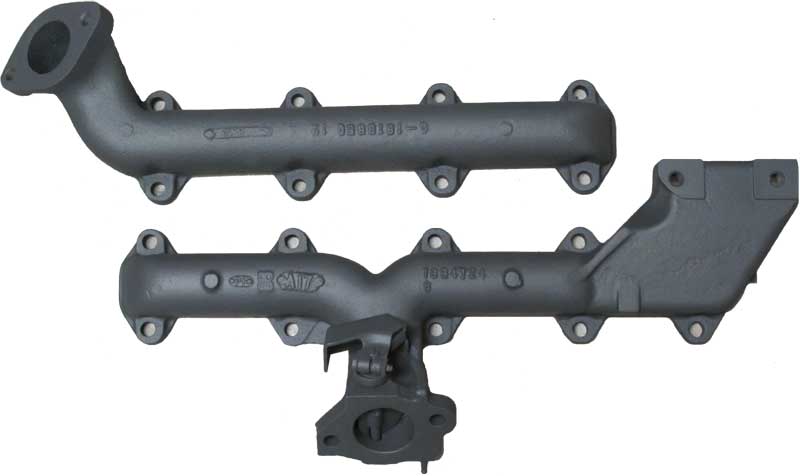 Cap's Brite Hot Coatings
www.capsbhc.com
Ceramic coated in cast iron color $163
9/21/10 Chromed rear trunk emblem - looks good
9/25/10 I had to take the heads off to remove the old exhaust manifold studs and install new ones. Intake manifold had to come off again.
Good thing! In the process I found 2 bent pushrods. One accounted for a click I have been hearing. I presume after the engine had been sitting for a long time and they started it up in Salem Indiana a couple of intake valves were stuck due to old varnish which bent the pushrods. Anyway new pushrods are on their way and new studs are installed.
9/27/10 Replaced the fan, cleaned and painted the generator. Brushes are 90%. Old fan was really chewed up..
OCTOBER 2010
10/8/10 Installed heads and 16 new Melling push rods. Adjusted the valves cold.
10/9/10 Installed radiator, heater core, blower fan, generator, ceramic coated exhaust manifolds and horns.
10/10/10 Painted inside of hood
10/11/10 Had a machine shop drill and tap a hole ($35) in the intake manifold under the thermostat housing for the MOON gauges temperature sending unit. The wall is over 1/4" thick and the fitting is tapered pipe threads for a tight fit.
10/15/10 Installed intake manifold and rebuilt carburetor.
10/30/10 painted the inside of the hood satin black. Worked on miscellaneous issues and wiring.
GOOD NEWS: previous owners son said the engine was overhauled in 1982 so it has 10,000 miles on it.
I removed the intake manifold and it is as clean as can be inside.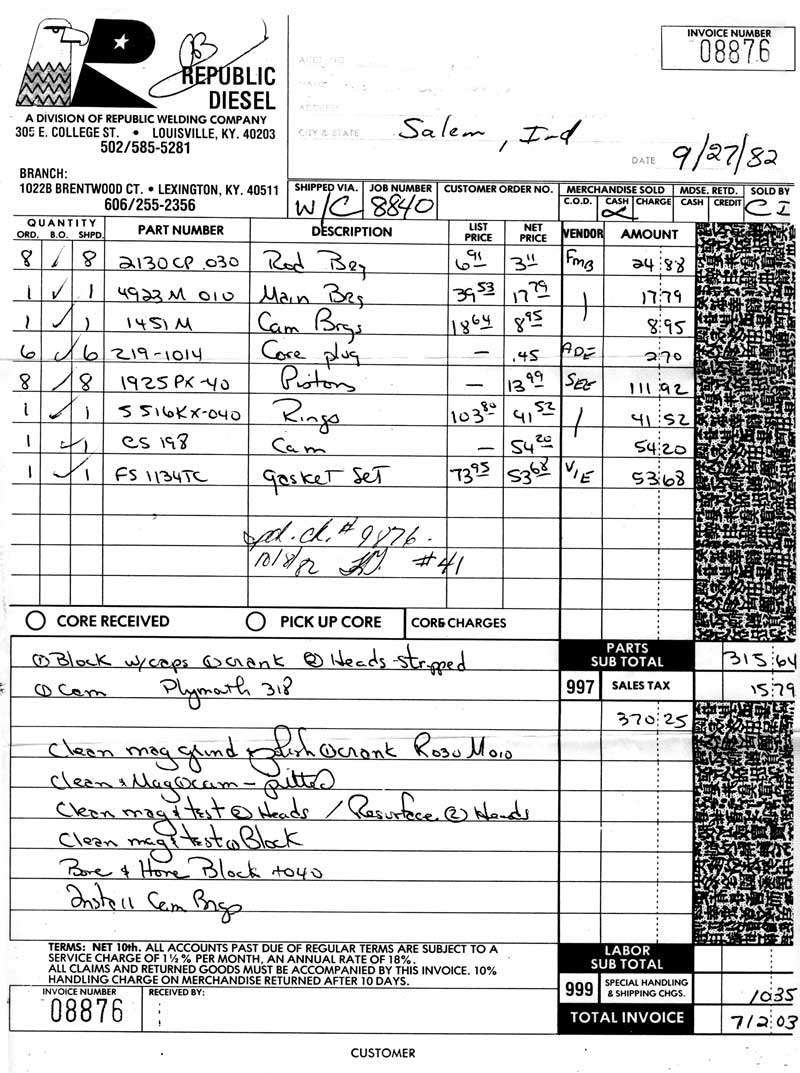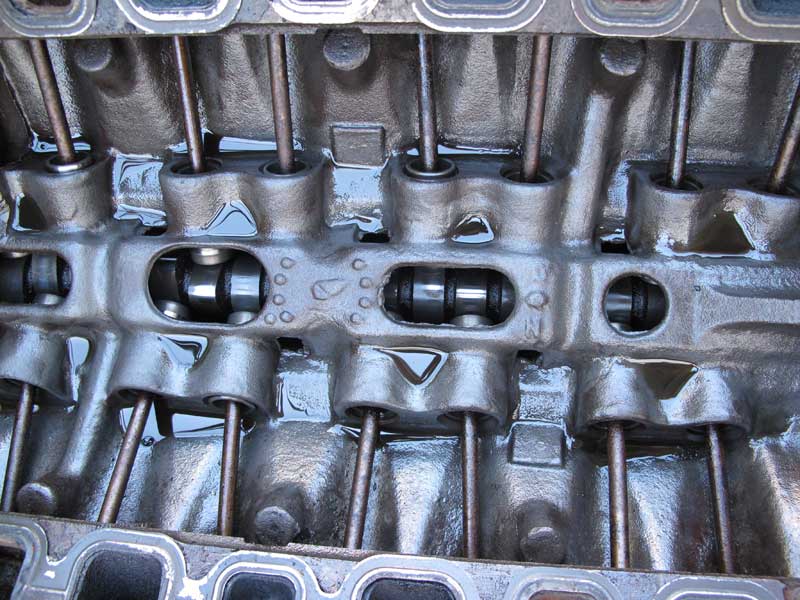 What in the Power-Pak Package?
Original Power-Pak parts indicated by an "A" at the end of the part number.
Special Distributor - Auto-Lite p/n IBP4003A
Special Four-barrel Carter WCFB Carburetor 385 CFM - Tag# 2530SA
Special intake manifold - Four-barrel Casting # 1619826
Larger air cleaner with a paper filter for the first time, previously were oil bath
Dual Exhaust for less back pressure
235 HP (More horsepower)
In a 1957 Hot Rod Magazine test a 57 Plymouth did 0 to 60mph in 9.6 seconds with the 301 Power-Pak engine.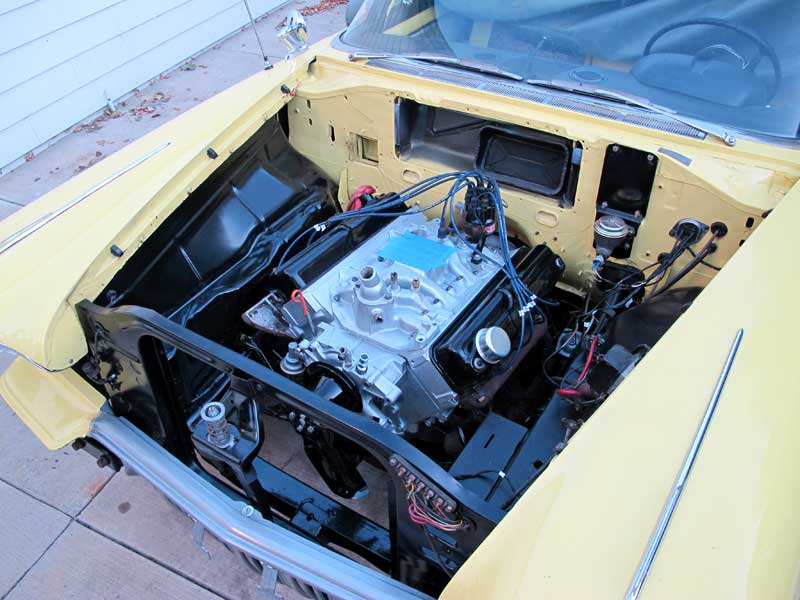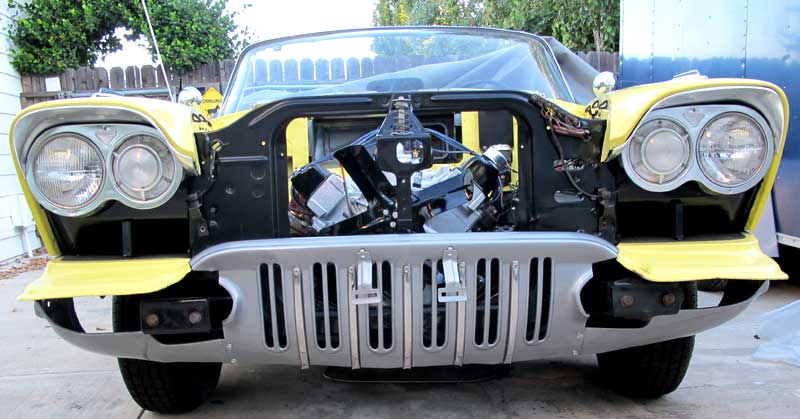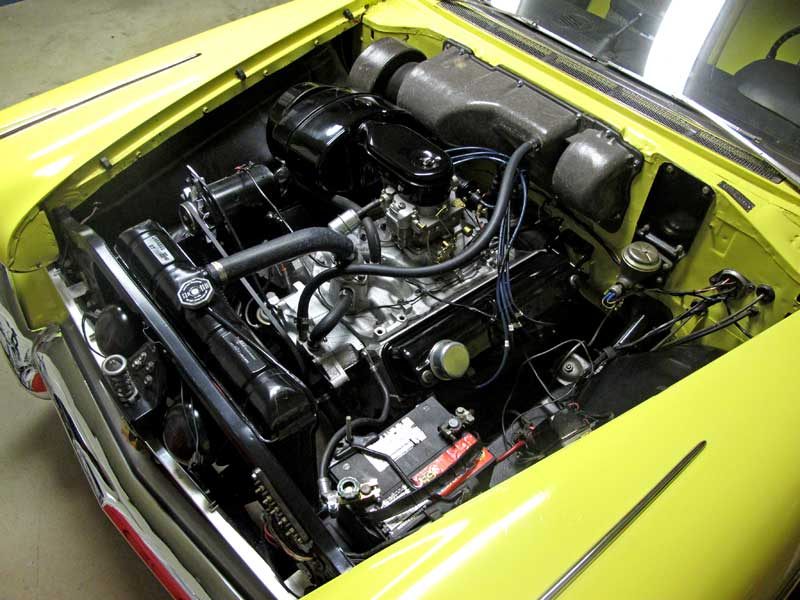 I just installed the distributor with the new PerTronix electronic module.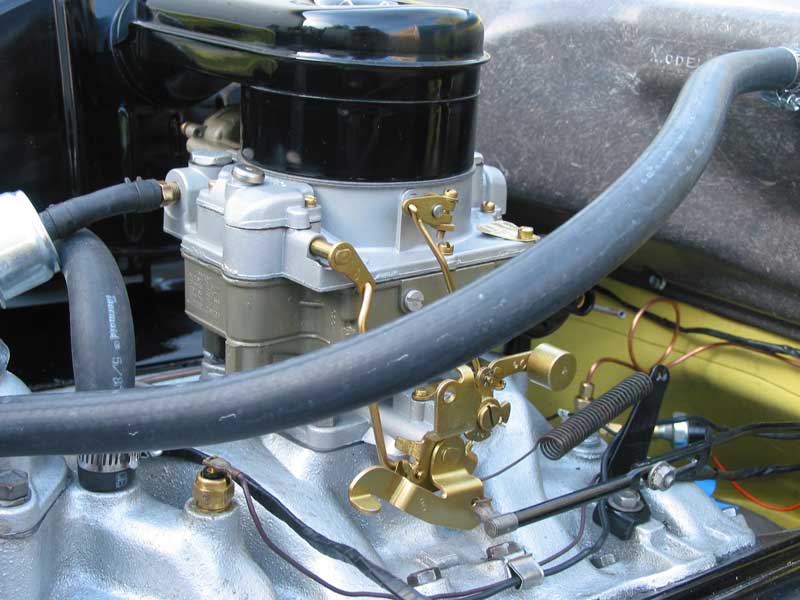 The Carter WCFB four-barrel 385 CFM carburetor has been fully rebuilt and plated by
RECARBCO (www.recarbco.com) to original specifications.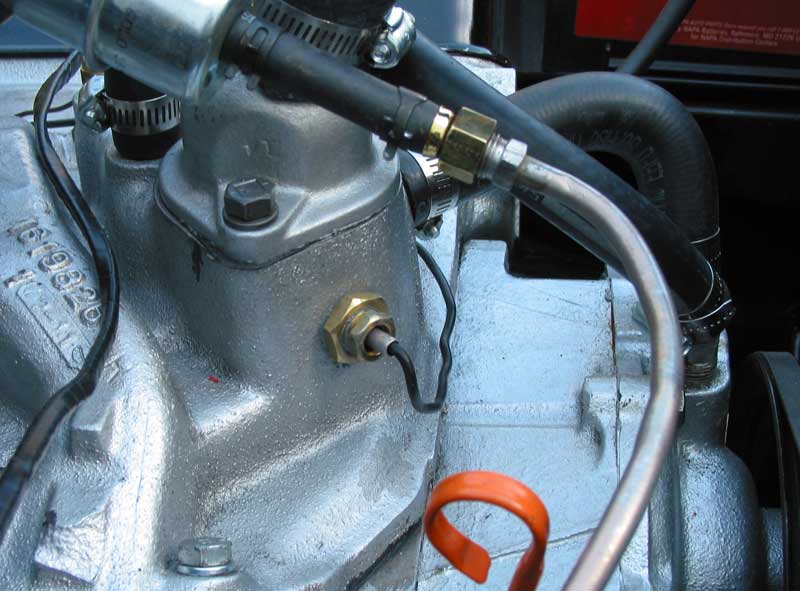 Not having a location where I could install the temperature sending unit for a set of MOON gauges
I had a machine shop for $35 drill and tap a hole to install a fitting in the thermostat housing.
There is over a quarter inch of material in the casting to tap into.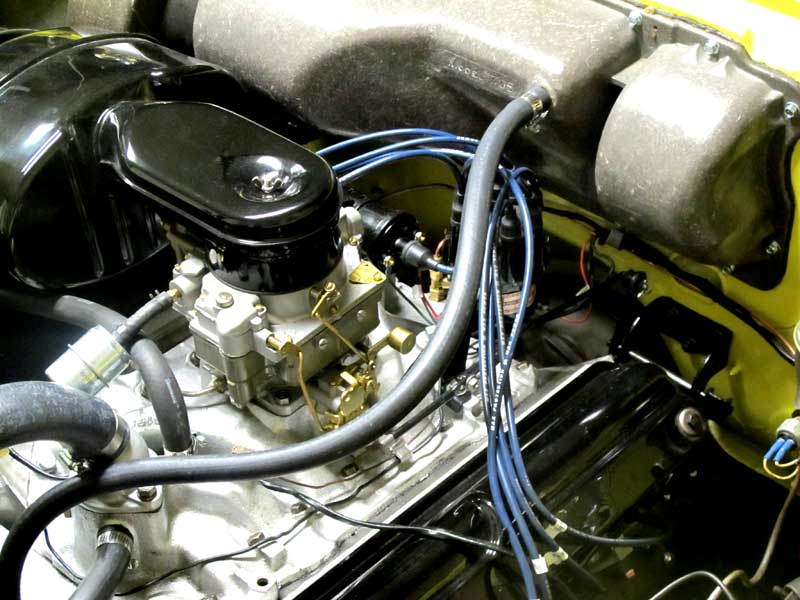 NOVEMBER 2010
11/3/10 Received and installed my distributor from PerTronix. They put in a new plate and mounted the electronic module. I installed a flame thrower coil to match the PerTronix system and give 20,000 more volts to the spark plugs.
11/4/10 Fired up the Poly 301 - SWEET! Starts quickly, I had to fix some fuel leaks.
11/6/10 Installed new rear shocks
11/8/10 New exhaust system installed with chrome turndown tips.
11/9/10 Valves adjusted, heads re-torqued, engine timed, idle set, choke worked on.
11/11/10 New transmission shift cable and back up switch installed.
11/12/10 New motor mounts and transmission mount installed
DECEMBER 2010
12/20/10 Rebuilt Generator with new Armature (solved issue with high voltage)
12/21/10 Install new regulator (voltage remains constant at 14 volts)
To polarize a generator connect all wires to the regulator, connect the battery (negative ground) with the engine off.
Momentarily connect a jumper wire between ARMATURE terminal and the BATTERY (+) - a small spark should happen.